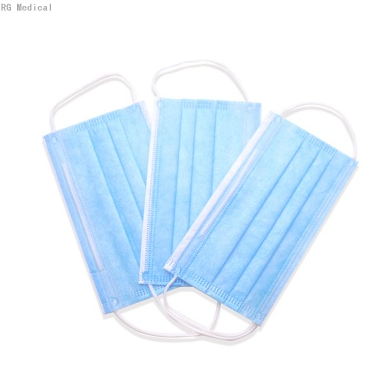 Disposable masks are made of more than three layers of 28 grams of non-woven fabric; the bridge of the nose is made of environmentally friendly plastic strips, which do not contain any metal, and are breathable, comfortable and especially suitable for electronic factories and daily use. Disposable masks (medical surgical masks) can prevent respiratory infections to a certain extent, but cannot prevent haze. Pay attention when buying, you should choose a mask with the words "Medical Surgical Mask" clearly marked on the outer packaging. In some special time periods, sometimes people have to reuse disposable masks for various reasons, but there are often some harmful substances such as bacteria and viruses on the masks, so how to disinfect disposable medical masks? Let us have a look.

This passage contains the followings of disposable face mask:
(1)Disposable masks and surgical masks
(2)Reuse disposable medical masks or not
(3)Methods to disinfect disposable medical masks
(1)Disposable masks and surgical masks
A disposable mask is not considered a respirator, but it is recommended to prevent large droplets. These masks can help prevent the spread of COVID-19 by blocking the droplets exhaled by the wearer.
These masks have the following functions:
Three layers of protection: made of three layers of soft non-woven polypropylene to prevent inhalation or exhalation of respiratory droplets.
Easy to breathe: The highly breathable non-woven fabric makes breathing as easy as not wearing a mask.
Comfortable fit: This mask is only 0.04mm thick, which hardly puts pressure on your face. The elastic earrings are flat and designed to fit the ears without excessive fatigue.
Skin-friendly material: It is made of odorless soft non-woven fabric, soft to the touch, and can avoid skin irritation.
Surgical masks are similar to standard blue disposable masks, but there is one major difference. These have been tested for fluid resistance and are flame retardant.
These surgical masks have the following functions:
Made of three layers of nonwoven material: These surgical masks have three protective layers. Spun-bond polypropylene (SPP), polypropylene (PP) and cellulose.
Easy to breathe: These masks ensure proper air circulation and are easy to breathe to provide maximum comfort.
Skin-friendly material: Made of skin-friendly material, it can be worn for a long time.
One size that fits everyone: These 6.9" x 3.7" masks can be firmly welded to the mask and come with two elastic stretch loops, designed to fit most adult wearers.
(2)Reuse disposable medical masks or not
Certain types of masks, such as N95 and surgical masks, are designed for single-use only. For ordinary people, this means putting them in the trash can after wearing a mask.
But if properly disinfected, they can be reused in a professional environment. For example, N95 masks can be sterilized by UVC sterilization radiation or vapor-phase hydrogen peroxide. However, due to low demand, no tests have been conducted on the disinfection or reuse of masks.
In case the mask cannot be replaced between two uses, it is recommended that you check it when you remove the mask.
If the mask is dirty, torn or soaked with moisture, you should discard it. If it looks clean and intact, it is recommended that you store it in a clean paper bag or other air-permeable container between uses. However, ideally, they should not be reused.
(3)Methods to disinfect disposable medical masks
High temperature disinfection
Prepare a steamer or other steaming tools, and boil the water. After the water is boiled, put the disposable mask in and steam for 3-5 minutes, and let it dry.
alcohol disinfection
Prepare 75% medical alcohol, spray tools and used disposable masks. Pour alcohol into the spray tool, spray on the front and back of the mask, and dry it.
UV disinfection
Prepare a medical UV lamp, and place the disposable mask near the specified distance from the lamp. Turn on the medical UV lamp and irradiate the disposable mask for more than 10 minutes.
We hope this passage can help you know more about disposable medical mask and its disinfection. If you need any disposable medical masks, please contact us.